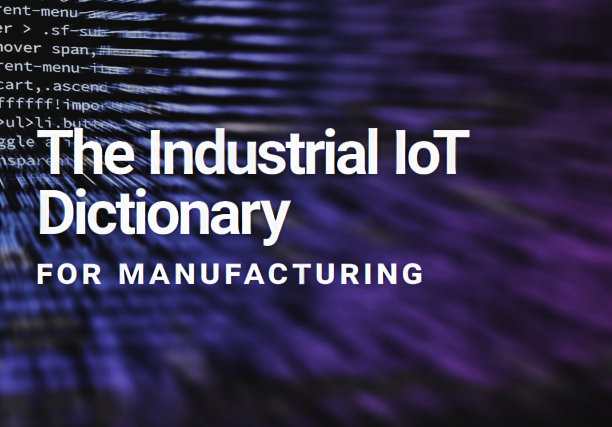 ADVANCED MANUFACTURING
The process of leveraging the most advanced technology available at the current time in order to maximize the output and/or product quality of a manufacturing facility.
APPLICATION PROGRAMMING INTERFACE (API)
A collection of commands and protocols used to interact with an operating system, device, or specific software component. In IoT, an API lets the developer access the functionality of a device or sensor, such as a thermometer's readings. APIs can be public or restricted to authorized users only.
ARTIFICIAL INTELLIGENCE (AI)
A technology that gives computers the ability to learn based on data, previous experiences, and their environment in order to make decisions in order to maximize results.
BIG DATA
Large compilations of data that can be analyzed in order to reveal patterns, trends, and associations. Big data is especially used in order to detect bottlenecks in productivity, predict outcomes, and find patterns that otherwise wouldn't be noticeable through informal analysis.
BLUETOOTH
Short range wireless technology standard which operates on the 2.4 Mz band. Bluetooth can be used for sending both data and audio, with popular uses including wireless headsets and cordless keyboards. Bluetooth devices can be set up with different hardware profiles to help perform specific tasks, for example audio adapter, audio headset, serial, and keyboard profiles.
(THE) CLOUD
An information technology paradigm that enables ubiquitous access to shared pools of configurable system resources and higher-level services that can be rapidly provisioned with minimal management effort, often over the Internet.
CONDITION MONITORING
the process of monitoring a parameter of condition in machinery (vibration, temperature etc.), in order to identify a significant change which is indicative of a developing fault. It is a major component of predictive maintenance.
DATA CENTER
A collective term for the physical site, network elements, systems, etc., that supports computing and network services
DIGITAL MANUFACTURING
Digital manufacturing is the use of an integrated, computer-based system comprised of simulation, 3D visualization, analytics and collaboration tools to create product and manufacturing process definitions simultaneously.
DIGITAL TRANSFORMATION
Digital transformation is the profound transformation of business and organizational activities, processes, competencies and models to fully leverage the changes and opportunities of a mix of digital technologies and their accelerating impact across society in a strategic and prioritized way, with present and future shifts in mind.
DIGITAL TWIN
A reference to a digital replica of physical assets, processes and systems that can be used for various purposes. ... A digital twin continuously learns and updates itself from multiple sources to represent its near real-time status, working condition or position.
DIGITAL THREAD
A communication framework that connects traditionally silo-ed elements in manufacturing processes and provides an integrated view of an asset throughout the manufacturing lifecycle.
DIGITIZATION
The process of moving information onto a format that can be understood by a computer in order for that data to be used in computational calculations.
DIRECT NUMERIC CONTROL (DNC)
Also known as distributed numerical control (also DNC), is a common manufacturing term for networking CNC machine tools. DNC networking or DNC communication is always required when CAM programs are to run on some CNC machine controls. ERP The systems and software packages used by organizations to manage day-to-day business activities, such as accounting, procurement, project management, and manufacturing. ERP systems tie together and define a plethora of business processes and enable the flow of data between them.
GATEWAY
A link between two computer systems or programs. This way they can share information with each other. The router for your home Internet is one type of gateway.
INDUSTRIAL AUTOMATION
The use of set technologies and automatic control devices that results the automatic operation and control of industrial processes without significant human intervention and achieving superior performance than manual control.
HUMAN-MACHINE INTERFACE (HMI)
A user-interface consisting of hardware and software that lets a person send request/commands to a machine. Typically HMI's are meant to make it as easy as possible for a person to control a machine with little difficulty. With a smart phone, for example, a user would perform various actions in order to navigate to the phone-call application and place a call.
INDUSTRIAL IOT (IIOT)
A sub-discipline of IoT, encompassing connected large-scale machinery and industrial systems such as factory-floor monitoring, HVAC, smart lighting, and security. This is M2M communication where, for example, equipment can send real-time information to an application so operators can better understand how efficiently that equipment is running. Also referred to as Industry 4.0 or Industrie 4.0, INDUSTRY 4.0 The current trend in the manufacturing industry that uses a combination of IoT, big data, and cloud computing in order to develop factories that can make decisions based on large amounts of data. A couple benefits that Industry 4.0 offers is the ability to detect bottlenecks and deficiencies using big data, high level customization, and automation of production.
INTERNET OF THINGS (IOT)
The concept of connecting otherwise separate machines or data sources so that people can take better decisions and actions faster. This large number of data gathering devices is the backbone of Industry4.0 that allows people to make decisions in alignment with varying productivity goals.
MACHINE 2 MACHINE (M2M)
The ability of machines to communicate together and make decisions using information without the need of human intervention.
MACHINE-TO-PERSON (M2P)
Analytics for big data in a human readable form e.g., dashboards.
MACHINE DATA
Also known as machine generated data, this is digital information created by the activity of computers, mobile phones, embedded systems, and other networked devices.
MACHINE LEARNING
Machine learning is a method of data analysis that automates analytical model building. It is a branch of artificial intelligence based on the idea that systems can learn from data, identify patterns and make decisions with minimal human intervention.
MANUFACTURING ANALYTICS
Manufacturing analytics is a set of advanced analytical tools that help in generating insights from historical and present process data and identifying relationships and patterns from various manufacturing processes.
MANUFACTURING EXECUTION SYSTEMS (MES)
Computerized systems used in manufacturing, to track and document the transformation of raw materials to finished goods.
MTCONNECT
MTConnect is a protocol designed for the exchange of data between shop floor equipment and software applications used for monitoring and data analysis.
OPEN PLATFORM COMMUNICATIONS (OPC)
The interoperability standard for the secure and reliable exchange of data in the industrial automation space and in other industries. It is platform independent and ensure,s the seamless flow of information among devices from multiple vendors. The OPC Foundation is responsible for the development and maintenance of this standard.
OVERALL EQUIPMENT EFFECTIVENESS (OEE)
A valuable metric that measures the efficiency of a machine. OEE takes into consideration the Availability, Performance, and Quality of a machine. In mathematical terms, OEE = Availability * Performance * Quality OVERALL OPERATIONAL EFFECTIVENESS (OOE) OOE takes into account Availability, Performance, and Quality but also takes into account unscheduled time that occurs during normal working shifts. OOE gives you a more realistic gauge of performance during time that your machines could have been running—but weren't because there was no scheduled work. Thus, OOE = Performance x Quality x Availability (where Availability=Actual Production Time/Operating Time.
PREDICTIVE ANALYTICS
The use of data, statistical algorithms and machine learning techniques to identify the likelihood of future outcomes based on historical data. The goal is to go beyond knowing what has happened to providing a best assessment of what will happen in the future.
PREDICTIVE MAINTENANCE
Techniques designed to help determine the condition of in-service equipment in order to predict when maintenance should be performed. This approach promises cost savings over routine or time-based preventive maintenance, because tasks are performed only when warranted.
PREVENTATIVE MAINTENANCE
The care and servicing by personnel for the purpose of maintaining equipment in satisfactory operating condition by providing for systematic inspection, detection, and correction of incipient failures either before they occur or before they develop into major defects.